NRCan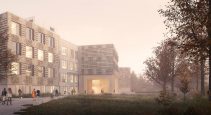 Canadian Property Management
The funding is contributed as part of Natural Resources Canada's Green Construction Through Wood (GCWood) program, which aims to encourage greater use of wood in construction projects.
REMI Network
NRCan honours 20 Canadian organizations for excellence in energy efficiency.
Building Strategies & Sustainability
Forthcoming updates to product performance requirements will be the first regulatory amendments since Natural Resources Canada and the U.S. Department of Energy signed an agreement aimed at harmonizing the two counties' energy efficiency standards and test procedures for rating equipment efficiency.