National Trust for Canada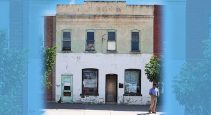 REMI Network
Heritage treasures from British Columbia to Nova Scotia are featured on the National Trust for Canada's Top 10 Endangered Places List for 2017.
REMI Network
The CN Tower, one of WZMH Architects' most celebrated and iconic designs, is the 2017 recipient of the Prix du XXe siècle.
REMI Network
The National Trust for Canada is seeking community groups with project ideas for its 2016 This Place Matters competition.