Mayor John Tory
Canadian Facility Management & Design
Waterfront Toronto and the City of Toronto Parks, Forestry and Recreation recently unveiled the top ten design proposals for York Street Park and Rees Street Park.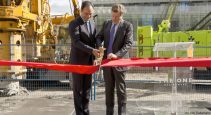 CondoBusiness
Mizrahi Developments celebrated the start of construction on the retail portion of The One with a ribbon cutting ceremony featuring Toronto Mayor John Tory. The
CondoBusiness
Minister Bill Morneau, Minister Charles Sousa and Mayor John Tory convened on April 18 to discuss their shared concern over housing affordability in the GTA.