luxury condo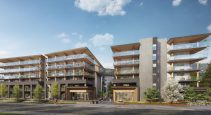 REMI Network
The natural setting of Lake Country, British Columbia, inspired the architecture of what will become the first condo project in the Lakestone community located in the Okanagan Valley.
REMI Network
The win for 11 Yorkville highlights Toronto's excellence in high-rise design on the world stage, beating competitors from across North America.
CondoBusiness
Award-winning developer, Castle Group Developments, recently announced plans for a six and eight-storey terraced luxury condominium, to be known as Insignia, in Toronto's North York neighbourhood. The project will be located steps from the upscale Bayview Village, a collection of over 100 luxury retailers, gourmet grocers, restaurants and cafes.