housing development
Canadian Apartment Magazine
Toronto's developing West Don Lands community could see a pair of high-rise rental towers in the not-so-distant future. Plans include office, retail and 198 affordable housing units.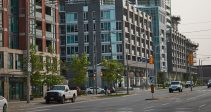 Canadian Apartment Magazine
Housing Now, an initiative to activate City-owned lands for the development of affordable housing, has officially begun phase one of the program.