HDR
Design Quarterly
PB Hotels and Resorts has selected HDR to design a new 82-suite, 12-storey mass timber Ramada Hotel in Kelowna. Construction start is anticipated in 2021.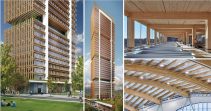 Canadian Property Management
Mark Ritchie, a Principal with RJC Engineers, discusses the benefits of working with mass timber over other building materials.
Design Quarterly
Canadian architecture firm HDR | CEI has announced a name change with the firm now becoming known simply as HDR. HDR acquired CEI in 2015.