Han Dong
CondoBusiness
Ontario is looking to boost elevator availability in multi-storey residential buildings, as well as long-term care and seniors' homes.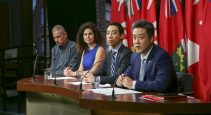 CondoBusiness
If it becomes law, the Reliable Elevators Act would require maintenance contractors to restore out-of-service elevators within 14 days in most buildings.
CondoBusiness
Han Dong, the Liberal MPP for Trinity-Spadina, is proposing to set time limits for elevator repairs with a private member's bill.