Fredericton
Canadian Facility Management & Design
The Government of New Brunswick has issued a request for proposal (RFP) for Fredericton's Centennial Building with the intent to ink a new chapter for the historic facility.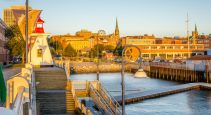 Canadian Property Management
Fredericton recorded 133,000 square feet of positive absorption since June 2017, taking the vacancy rate below 9.5 per cent, while Saint John showed the most marked improvement with a 3.7 per cent drop in vacancy.
REMI Network
Slate Office REIT (REIT) has acquired three office properties from Dream Office REIT, for a total purchase price of $165 million.