Fairmont Royal York
Canadian Facility Management & Design
This June, Toronto Mayor John Tory joined hotel leadership and staff to cut the ribbon on a newly renovated lobby and several added features.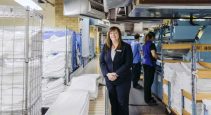 REMI Network
There's no missing the Fairmont Royal York when flying over Toronto, pulling into Union Station on one of the main train lines or travelling into downtown.
REMI Network
Members of the retail and hospitality industry were recognized as Canada's Safest Employers for 2015, a Thomson Reuters Awards program.