emergency services
REMI Network
Edmonton Fire Chief Ken Block is raising awareness about the risks of smoking materials on balconies after a condo fire caused $16.3-million in damage.
Canadian Facility Management & Design
Phase one of the Etobicoke General Hospital redevelopment is one step closer to reality as choices for potential developers and their respective design, build, maintenance and finance teams have been narrowed. The Patient Tower Project will be developed by one of three shortlisted candidates, including EllisDon Capital Inc., Fiera Axium Infrastructure Canada II LP and DIF Infra 3 Canada Ltd., and Plenary Group (Canada) Ltd and PCL Investments Canada Inc.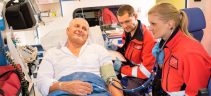 Canadian Facility Management & Design
A $22-million long-term care facility has officially opened in Radville, Sask., six years after the provincial government announced it would be replacing 13 long-term care centres across the province. The Radville Marian Health Centre features 25 long-term care beds, five of which are multi-purpose (used for observation, respite or palliative care), and emergency services.