disinfectant
Facility Cleaning & Maintenance
An EPA advisory notes some disinfectant products include unapproved claims regarding SARS-CoV-2, the strain of coronavirus that causes COVID-19.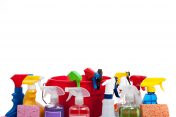 REMI Network
Sealed Air's Diversey Care division, and Purdue University, released a study focusing on how well disinfectants kill bacteria.
REMI Network
Norovirus illness can happen all year long and is easily spread in group settings like schools, day camps, childcare facilities and cruise ships.