conflict resolution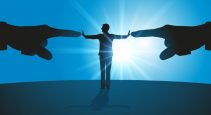 CondoBusiness
There are strategies that can be helpful to consider in recognition of the fact that reactive approaches to conflict can be quite costly for condo boards.
Canadian Apartment Magazine
Apartment professionals ponder the uncertainties of the rental housing industry, including the critical steps needed to cultivate new supply.
Canadian Apartment Magazine
All landlords and property managers encounter tenant conflicts at some point. Here are some simple solutions to help mitigate those disputes before you end up in a courtroom.