Bob Dugan
CondoBusiness
Stats from the CMHC indicate housing starts were up within the one-month span thanks in part to multi-res activity.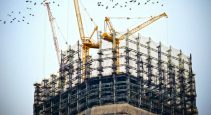 CondoBusiness
The trend in housing starts was 216,362 units in May 2018, down from 225,481 units in April 2018, reports Canada Mortgage and Housing Corporation.
CondoBusiness
According to CMHC's latest Housing Market Assessment (HMA), national home price growth increased by seven per cent year-over-year at the end of Q3-2016.