Bernard Siedlecki
Facility Cleaning & Maintenance
ASHRAE Standard 188, released in 2015, requires that buildings evaluate where Legionella growth may occur in all water and plumbing systems.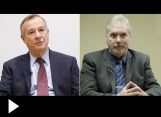 Canadian Facility Management & Design
This video report looks at the new standard (ASHRAE 188) to prevent Legionnaires' disease. Commentators: Pinchin Environmental's Bernard Siedlecki and Chem-Aqua Canada's Terry Runka.