apartment acquisition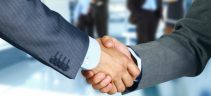 Canadian Apartment Magazine
Canadian Apartment Properties Real Estate Investment Trust ("CAPREIT") has completed the purchase of the substantial Halifax portfolio it previously announced in December.
Canadian Apartment Magazine
Continuum REIT, an affiliate of Q Management LP, announced that it has sold Starlight Investments its GTA multi-residential portfolio for a gross purchase price of $1.732 billion.
Canadian Apartment Magazine
Tricon Lifestyle Communities announced it has acquired a portfolio of three housing communities in California for a total purchase price of $30.4 million .