Air-Conditioning
Canadian Facility Management & Design
Noticing signs of mould in your air ducts? Here are some signs to watch for and tips for dealing with this important health and safety consideration.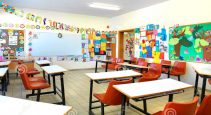 REMI Network
Poor indoor air quality and the humidity in public elementary school classrooms is having an increasingly negative impact on learning and school safety.
REMI Network
AHRI and UNEP are developing a global qualifications program for refrigerant supply chain networks in response to the depleting ozone layer.