addition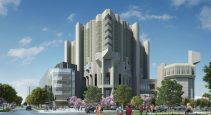 Canadian Facility Management & Design
The University of Toronto's Robarts Library is receiving a major expansion, called Robarts Common, that will add 1,200 work and study spaces to the facility.
Canadian Facility Management & Design
Phase one of the Etobicoke General Hospital redevelopment is one step closer to reality as choices for potential developers and their respective design, build, maintenance and finance teams have been narrowed. The Patient Tower Project will be developed by one of three shortlisted candidates, including EllisDon Capital Inc., Fiera Axium Infrastructure Canada II LP and DIF Infra 3 Canada Ltd., and Plenary Group (Canada) Ltd and PCL Investments Canada Inc.