REMI Network editors captured awards at the 11th annual Canadian Online Publishing Awards (COPA) last night. Silver accolades in the Best Company Feature and Best Branded Content categories make for the third consecutive year the REMI Network has taken home honours from the event, which recognizes editorial and design excellence across Canadian digital publications.
REMI Network has been a COPA award finalist in every year since its 2013 launch, and has previously won the 2017 gold in the Business-to-Business division for Best Website and the 2015 silver for Best News Coverage.
"Once again, it's an honour not only to be nominated, but to bring home two COPA awards," says Kevin Brown, president of MediaEdge Communications Inc. "We are proud of our website and the quality content our editors work hard to deliver. Winning these awards is a great way to kick off the new year."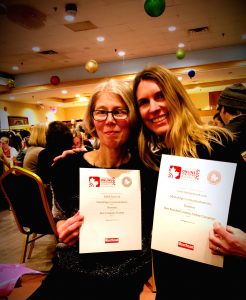 For 2019, editor-in-chief Barbara Carss received the silver for a feature about Rick Hansen Foundation Accessibility Certification and its potential value for the commercial and multi-residential real estate sectors. This follows silvers for the Best Investigative Series in 2018 and the Best Industry Feature in 2017.
Executive editor Erin Ruddy won the silver for her ongoing RJC series delving into the complex world of structural engineering. She was also a key member of the editorial team contributing to the earlier awards for best website and news coverage.
REMI Network was also a 2019 finalist for the best Business-to-Business website.
Photo: Barbara Carss, editor-in-chief; Erin Ruddy, executive editor; Rick Evangelista, web designer; Rebecca Melnyk, editor. Missing: Cheryl Mah, editor.