It's only a matter of time before many work-from-home employees fully return to the office. Yet before employers can welcome them back safely, workplace well-being and hygiene must be addressed.
It's a challenge that employers aren't taking lightly—and for those who are intent on bringing workers back, it's one that's being addressed with enhanced hygiene, resources, and protocols.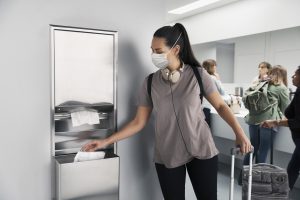 Tork®, the global professional hygiene brand of Essity, recently launched the Tork Office Hygiene Package™, a tailored selection of products, services, tools and support to help facility managers get ready for a return to the office.
"As the CDC loosens restrictions and employers feel more comfortable re-opening their offices, we expect to see adapted floor plans, rigorous cleaning programs, an emphasis on 'touchless' interactions, and other risk-mitigation measures," said Rachel Olsavicky, Regional Marketing Manager, Commercial & Public Interest, Essity Professional Hygiene.
Actions like these are critical for not only protecting building occupants and visitors, but also for helping employees feel confident that their concerns and wellbeing are being taken seriously by company leaders.
In addition to the Tork Office Hygiene Package, Tork also developed an informative trend report, focused on office hygiene, which includes guidance for facility managers to understand how the pandemic changed hygiene standards in office buildings and how best to address these new challenges.
"Companies need to show employees that they're investing in the right strategies, resources, and solutions to address the hygiene standards that have become part of everyday life," notes Olsavicky.
There are a number of critical strategies facilities managers should employ to keep their facilities hygienic and workers feeling safer. These include:
Supporting hand hygiene behaviors: Frequent and thorough handwashing is the easiest way to reduce the risk of contagion. While hand sanitizers are also effective at killing and preventing the spread of germs, handwashing is the preferred option for staying healthy and keeping hands clean. Ensuring handwashing posters are in easily visible locations in restrooms and breakrooms can help promote optimal hand hygiene.
Using preferred hand solutions: Having heightened cleaning or handwashing protocols is only the first step. The second is ensuring effective hygiene solutions are used. Hand soaps and sanitizers, paper towels, and other surface cleaning products should be high-quality, eco-friendly, and readily available to anyone who needs them. "For an employee, being able to walk into a restroom or area and see fully-stocked paper towels, soap dispensers, and other resources adds a real sense of comfort and confidence," adds Olsavicky.
Enhancing cleaning and sanitizing protocols: Next, a thorough and consistent cleaning and sanitizing regimen must become the norm once offices return to pre-pandemic operations. Offices are full of shared spaces (e.g., meeting rooms, bathrooms, break rooms) and occupant touchpoints (e.g., doors, desks, elevator buttons, computers). These all need to be cleaned, disinfected, and stocked with cleaning supplies regularly to mitigate risks of infection.
Developing a hygiene-forward culture: Everyone has a role to play in keeping a hygienic office environment. For employers, that means promoting enhanced hygiene behaviors among employees and visitors through signage, awareness campaigns, and training, as well as drawing on external resources to learn and embed best practices. And for employees, contributing to a hygienic workspace means following the protocols laid out by the leaders and buying into a "culture of hygiene."
Levering data-driven cleaning: Consider using digital tools to improve hygiene and boost efficiency. For example, Tork EasyCube, a revolutionary facility management software system, utilizes sensors to monitor visitor traffic and refill levels. This data can then be compiled, analyzed, and reviewed through an online dashboard that property teams can use to see where cleaning and hygiene solutions are needed.  This tool also provides easy-to-use reports for use with tenants to reassure them of the protocols being implemented to keep the office safe. "More than ever, facility managers are limited for time and resources, and by relying on data to help them keep track of all aspects of their operation is a big benefit," says Olsavicky. "Solutions like Tork EasyCube are a tech-savvy way to boost efficiencies and gain greater visibility into the entire hygiene process."
Knowledge and support when navigating a post-COVID world
Property managers and office leaders are typically stretched thin. As such, there is value in partnering with third-party specialists who can help support the development and implementation of best-in-class hygiene protocols.
"As the global leader in professional hygiene and with over 50 years of experience, our goal is to offer property managers all-in-one resources for maintaining office hygiene and cleanliness," says Olsavicky.
What's more, she adds, Tork team members are helping facility managers adapt to the changing environment by conducting hygiene site surveys, offering installation support, and providing worry-free implementation. "We know property managers and cleaning professionals are overwhelmed and that their job has never been more complex and demanding. We are here to help."