Rising out of its industrial past, Zibi is a community unlike any other in Canada. Framed by Portage Bridge and Waterfront Quarter to the east and Chaudière Crossing and Albert Island to the west, the new waterfront city straddling Ottawa and Gatineau features a connected system of walking trails, extensive cycling paths, retail space, and multiple transit options. Progress has been underway on the 34-acre development since 2013, bringing to life an ambitious masterplan of standalone buildings, public squares and retail plazas that will soon serve more than 5,000 residents and countless visitors to the nation's capital region.
"The Zibi project presents a perfect opportunity to bring housing to urban professionals looking to live more affordably and lighten their environmental footprint," says Justin Robitaille, VP, Development at Dream Asset Management. "With 7.7 acres dedicated to four parks, as well as a mix of housing to accommodate various levels of income, the draws of this exceptional new community go on and on."
Among the attractions, brave souls will be able to launch themselves across the river on the world's first interprovincial zipline. Meanwhile, residents looking to set roots in the area can choose from two-storey townhomes or single-dwelling urban flats. For renters, a new high-rise component, featuring a mix of co-living spaces and market rentals, is set to open within the next two years.
Kohn Partnership Architects along with Teeple Architects in association for Dream Unlimited and Theia Partners, led the design on Block 206 and the adjacent Block 207, which together form the northern boundary of Zibi's Head Street Square. As Sean Lawrence, partner at Kohn Architects puts it, everything about these residential buildings and the Zibi community at large was designed to push the limits of sustainability.
"To achieve LEED and meet today's bar, you can expect all new builds to include certain green features — like the ability to retain rainwater for irrigation, a green roof system, and increased thermal values in the walls," he says. "By adhering to the One Planet Living framework, we have all that at Zibi and more."
Developed by Bioregional and the World Wildlife Fund, One Planet Living includes 10 principles that Lawrence and his team were strict to follow. Driven by the overarching goals of eliminating GHG-emitting energy sources and encouraging social equity, Lawrence says Zibi is on track to become Canada's most sustainable community.
"We wanted to take a holistic approach that focuses on the wellness of residents, while providing a sustainable, energy-saving solution," he explains. "This means fewer cars will be accommodated with the emphasis being on bicycle and pedestrian traffic. Also, great efforts were taken to preserve the history and heritage elements of the site. One of our top priorities since the start has been to consult and engage with the local Algonquin Anishinabe people."
In fact, the name Zibi is derived from the Algonquin Anishinabe word for "river". It was given to the development in honour of the surrounding waterways that have long held importance to the area's First Nations people — long before European settlers arrived and turned the region into an industrial zone. Until recently, Chaudière Falls ("Akikodjiwan") and the Ottawa River ("Kichissipi") falls have been blocked off from public access. But now, thanks to an accessible pubic park, everyone can appreciate the natural beauty that has been restored.
The presence of the Anishinaabe Peoples will be felt throughout Zibi's street and park names, wayfinding, landscaping and art installations. Lawrence says this collaboration was thread into every aspect of the community's design and hopes it will set a precedent for how Indigenous Peoples and non-Indigenous private sector companies work together in the future.
Zero Carbon Energy
Of critical importance to the One Planet Living framework, Zibi will bring zero carbon heating and cooling to every tenant and resident of the 34-acre city. The region's first zero-carbon District Energy System (ZCU) will rely on post-industrial waste energy for heating, and the Ottawa River for cooling. Although many district thermal systems do exist in Canada, this will be the first of its kind in North America to use post-industrial effluent energy recovery in a master-planned community.
"District energy has countless advantages including increased reliability, reduced greenhouse gas emissions, and overall lower costs," he says. "Moving toward zero carbon is the way of the future and Zibi is leading the way here in Canada."
All buildings in the community will be interconnected through a hydronic loop that will deliver heating and cooling energy generated at the ZCU central plant currently under construction. The heat will be injected into the plant through low-grade heat from effluents recovered from the neighbouring Kruger Products plant. Heat will be rejected through chillers into the Ottawa River to efficiently produce chilled water to cool the buildings. In the interim, temporary plants in Ontario and Quebec are heating and cooling the current buildings by gas. The permanent plant will be completed in 2021 and the DES is expected to go online at the same time.
Encouraging Social Equity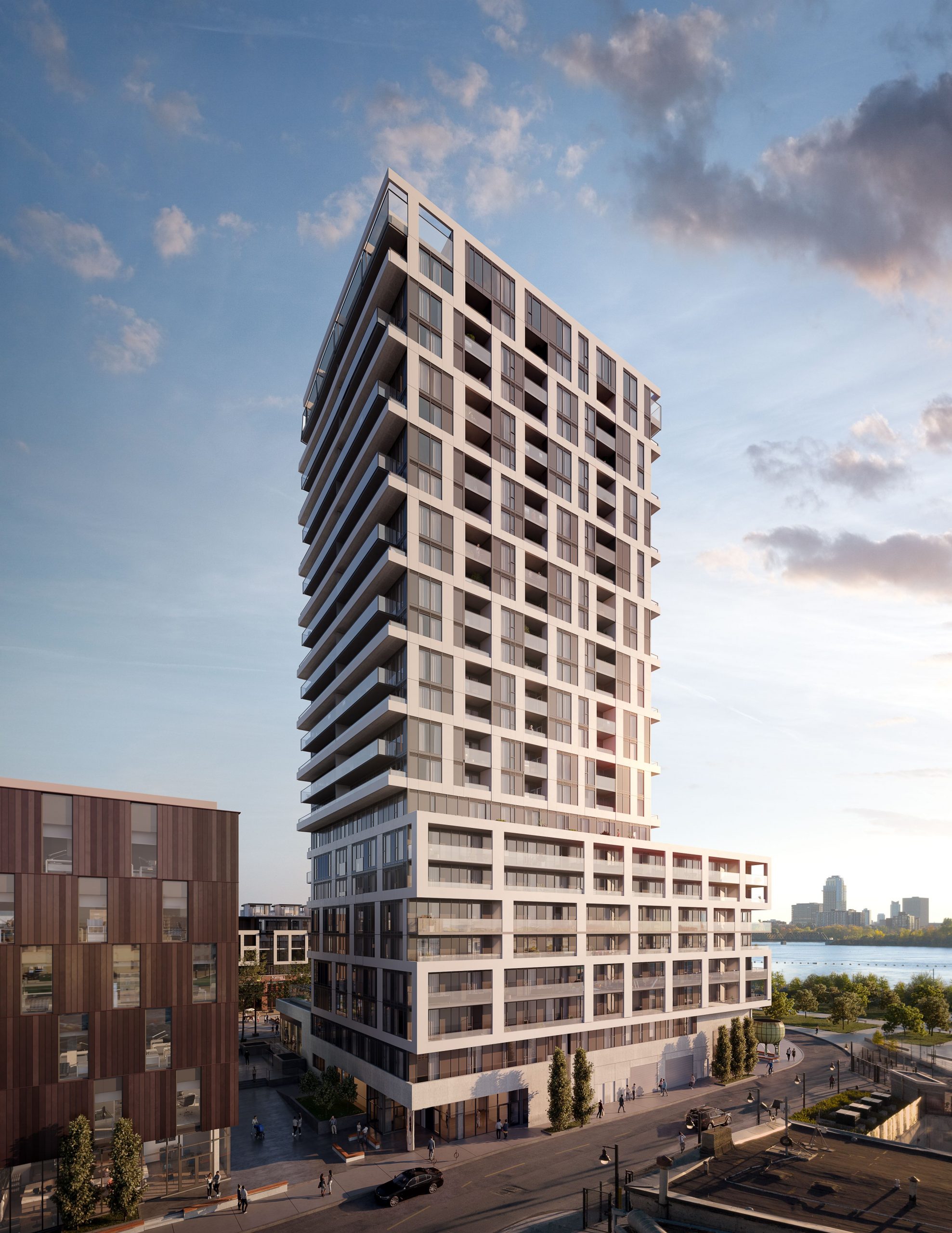 With the pandemic putting a spotlight on socio-economic inequities over the past year, the need for more adequate, affordable housing has emerged as a priority in Canada's major hubs. In the Ottawa area, Zibi intends to help fill some of that need with Zibi Block 206. Once intended as a condominium, Lawrence explains that plans were later revised to address the need for affordable rental. When complete, the elegant tower rising out of the commercial podium will consist of the equivalent of two floors (45 units) of social housing, owned and managed by Ottawa Community Housing, and 140 market-value rental units. Among those will be a mix of co-living units ranging in size from 5 to 15 bedrooms with shared kitchens and common areas. Additionally, there will be fully adaptable and accessible units designed to CMHC standards.
"COVID-19 has reinforced the need for outdoor access and co-working spaces that allow residents to cocoon themselves in a corner," says Lawrence. "Block 206 will provide that, as well as indoor and outdoor amenities at the 25th floor and the 3rd floor podium roof. Residents will also be able to use a community garden at the building site fed by rainwater."
At neighbouring Block 207, an existing post-industrial building was adapted for residential use, drawing on the rich industrial heritage of the site with a salvaged pulper integrated as an artefact. The 6-storey building will also provide new commercial retail and office spaces for the area at ground level.
Of course, to help encourage a car-less existence, the eco-minded community will include an oversupply of bike parking — and for those needing access to a vehicle, electric vehicle charging stations have been incorporated into the site plan. "The community is designed to be highly walkable with beautiful waterfront routes and an LRT system only steps away," Lawrence says.
Aiming for Zero Waste
To earn the title of "Most Sustainable Community in Canada" reducing waste is an important goal. Zibi will increase the rate of waste diversion from landfills to more than 70 per cent by prioritizing waste prevention, reuse, recycling and composting. In the meantime, construction waste follows a reuse, deconstruct and demolish hierarchy requiring that material from existing buildings be reused wherever possible.
In the end, Lawrence concludes: "Being mindful of everything, finding ways to reuse materials found on the site and incorporating them into the design, has made this project far more challenging but well-worth the efforts we've taken. Zibi is a massive project many years in the making. It will be great to see it all come together."
Visit Zibi.ca for more details.