RioCan Real Estate Investment Trust (REIT) and Broccolini Real Estate Group have joined forces to redevelop the Kirkland Centre, an open-air retail centre in suburban Montreal. With the newly announced partnership, Broccolini acquires a 50 per cent interest in the site and will act as the development and construction manager for the proposed transformation to a mixed-use commercial-residential hub offering convenient connections to Montreal's expanding public transit network.
The envisioned phased redevelopment will add 250,000 square feet of new office space, 135,000 square feet of complementary commercial space and nearly 2.5 million square feet of residential development proposed to be "of varying heights and density". Demolition to make way for the first phase of the redevelopment is targeted for late 2022 or early 2023. Until then, RioCan will retain a 100 per cent interest in the centre's existing leases, which includes a Cineplex cinema as the anchor tenant.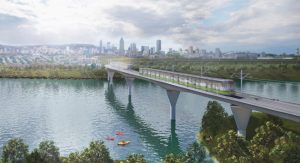 Meanwhile, the Kirkland station on the Réseau express métropolitain (REM) light rail line is slated to open in 2023-24. The REM, which is currently under construction, will provide service from Montreal's south shore and west island to the Trudeau International Airport and downtown.
"Our goal is to facilitate access to the REM by increasing the residential offering in this area, which will be adjacent to the new Kirkland station," says Roger Plamondon, president of the Broccolini Real Estate Group. "This multi-phase project will be developed in close collaboration with the community and with the municipal authorities of the City of Kirkland."
Under the terms of the partnership, Broccolini will market the residential units and act as property manager for the office properties. RioCan will manage the retail and residential components of the development.
A statement from RioCan notes the redevelopment will reduce the REIT's exposure to Cineplex and replace "underutilized space with highest and best uses". The partnership with Broccolini was announced in tandem with unveiling of a joint effort with Fieldgate Urban to build a mixed-use condominium in Toronto's Bloor Street West neighbourhood.
"We look forward to working with our two new best-in-class partners as we create long-term value and increasingly transform our portfolio of assets into transit-oriented, mixed-used communities in Canada's growing major markets," says RioCan's chief executive officer, Edward Sonshine.