The Association of Consulting Engineering Companies – British Columbia (ACEC-BC) celebrated innovation and technical excellence at its 30th annual Awards of Engineering Excellence held in Vancouver.
The top prize, the Lieutenant Governor's Award for Engineering Excellence, was awarded to WSP Canada Group Ltd. for the firm's New Solutions for Safe Water in Remote Communities project.
WSP worked collaboratively with RES'EAU-WaterNET, a research and development network, to develop an organics removal technology for water treatment in small and remote communities that utilizes natural biological processes, is low in consumables, reduces chemical requirements, has a minimal waste product and is simple for operators.  Through the application of this research, WSP implemented the world's first full-scale pilot of an innovative treatment technology.
Awards are given in several categories: Buildings, Municipal & Civil Infrastructure, Transportation & Bridges, Energy & Industry, Natural Resource & Habitat, Soft Engineering and Projects Under $2.5 Million. ACEC-BC also recognized the outstanding contributions of two individual consulting engineers.
"The Awards for Engineering Excellence winners represent the best and brightest in our industry," said Caroline Andrewes, president and CEO, ACEC-BC. "The winning projects are some of the most impressive work we have seen from B.C.'s consulting engineers, who have been showcased on this stage for the past three decades."
Award of Excellence winners include:
3 Civic Plaza Consultant: Fast + Epp
Owner: Century Group
Prime Consultant: ZGF Architects
Category: Buildings Location: Surrey, BC
Dual Use Detention Centre/Sports Field
Consultant: McElhanney Consulting Services Ltd.
Owner/Client: Qualico Developments (Vancouver) Inc. / The Township of Langley
Category: Municipal & Civil Infrastructure
Location: The Township of Langley, BC
Bridging the Hudson: Main Span Design of the Governor Mario M. Cuomo Bridge Consultant: COWI Owner: New York State Thruway Authority
Client/Prime Consultant: HDR
Category: Transportation & Bridges
Location: Hudson River, New York (north of Manhattan)
John Hart Generating Station Replacement Project
Consultants: SNC-Lavalin Owner/Client: BC Hydro
Category: Energy & Industry Location: Campbell River, BC
Blakeburn Lagoons Park
Consultant: ISL Engineering and Land Services Ltd.
Owner/Client: City of Port Coquitlam
Category: Natural Resource & Habitat
Location: Port Coquitlam, BC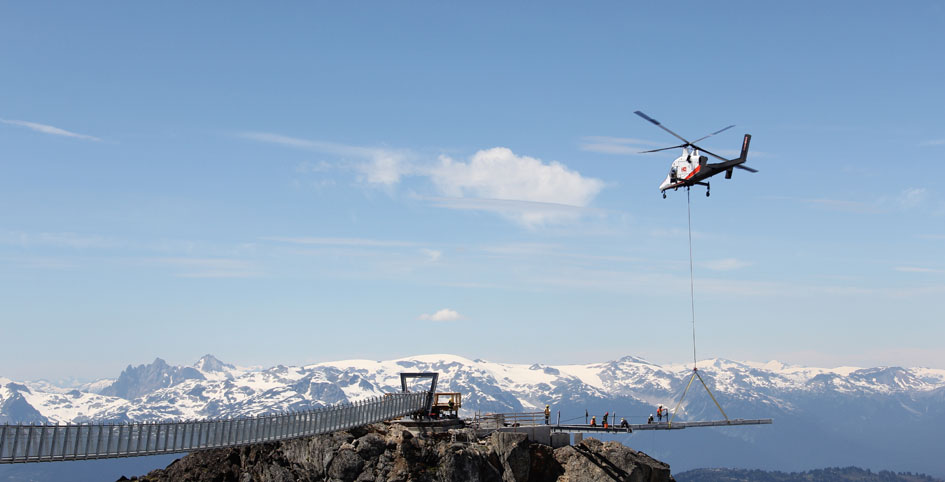 Cloudraker Skybridge and Raven's Eye Cliff Walk
Consultant: Morrison Hershfield Ltd.
Owner/Client: Whistler Blackcomb Client: Axis Mountain Technical
Category: Projects Under $2.5 Million
Location: Whistler Mountain, BC
The Meritorious Achievement Award, presented annually to an individual for significant lifetime contributions to engineering, the industry and the community, was awarded to John Sherstobitoff, P.Eng., Ausenco Engineering Canada Inc.
The Young Professional Award was given to David Ellis, P.Eng, of McElhanney Consulting Services Ltd. recognizing his many achievements in the first 10 years of his career, excellence in consulting business practices, and leadership in the community.
Visit ACEC-BC for the full list of winners.